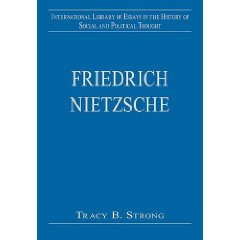 From his first readers to the present, Friedrich Nietzsche has found supporters and detractors on every point of the political spectrum. In the introduction to this volume, Tracy Strong analyzes the reasons for this diversity of reception. They are to be found, not only in modern social and political developments but, more importantly, in the purpose and style of Nietzsche's writing. The volume includes selections from all major interpretive schools, including some from the early part of the twentieth century, an appendix presenting a new translation of one of Nietzsche's most controversial writings, The Greek State, and a lengthy bibliography of writings on Nietzsche and politics. The essays gathered together in this volume are the work of the most seminal Nietzsche scholars and, taken together, provide a comprehensive study of Nietzsche's political thought.
Contents: Introduction; Part I Nietzsche and Political Responsibility: Nietzsche and the war, William Mackintire Salter; Nazism as Nietzschean experiment, Kurt Rudolf Fischer; Nietzsche, the crisis and the war, Eric Voegelin. Part II Nietzsche and Democratic (?) Politics: The relevance of Nietzsche to democratic theory: micropolitics and the affirmation of difference, Nathan Widder; Nietzsche for democracy?, Alan D. Schrift. Part III Nietzsche and Aristocratic (?) Politics: The roots of contemporary nihilism and its political consequences according to Nietzsche, Thomas L. Pangle; Nietzsche's Napoleon: the higher man as political actor, Paul F.Glenn. Part IV Neitzsche as/and Critical Theory: Nietzsche's concept of ideology, Mark Warren; The institution and destitution of the political according to Nietzsche, Michel Haar; Nietzsche and critical theory, Klaus Spiekerman; Nietzsche's will to power: politics and destiny, Babette E. Babich; Nietzsche/art/postmodernism. A reply to Jürgen Habermas, David Wellbery. Part V Nietzsche's Political Project: On the morals of genealogy, Jacqueline Stevens; Peoples and fatherlands: Nietzsche's geophilosophy and the direction of the Earth, Gary Shapiro; Thinking about human extinction: (I) Nietzsche and Heidegger, George Kateb; The politics of music (Nietzsche), Marc Crépon; Philosophy and the politics of cultural revolution, Tracy B. Strong; Appendix; Bibliography; Name index.
About the Editor: Tracy Strong is Professor at the Department of Political Science, University of California, San Diego, USA.
Mark as favourite