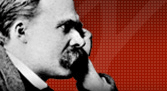 Nietzsche's personal library is an invaluable source to understand his thought within the contexts of his readings. More than 1800 works he owned are kept in the Herzogin Anna Amalia Library in Weimar, many of which contain annotations, remarks or notes. A catalogue of these materials was published in 2003 (Campioni, D'Iorio et al.: Nietzsches persönliche Bibliothek).
With the generous support of the German and French research-councils (DFG and ANR) we prepare a complete digital and open-source publication of Nietzsche's personal library with multiple research-tools on www.nietzschesource.org under the direction of Paolo D'Iorio (Paris) and Andreas Urs Sommer (Freiburg)
In addition to the digital edition, we established an international team of collaborators to produce introductory philosophical commentaries dedicated to selected entries. These commentaries are meant to explore the content and significance of certain works and to set the basis for future research. Commentaries will be published in the online-journal Studia Nietzscheana and connected to the respective digital versions and to other materials on Nietzschesource.
This collaborative project is bound to set foundational standards for the future of contextually and historically informed Nietzsche-studies. We therefore invite scholars who work on Nietzsche's engagement with certain texts of his personal library to contribute a commentary. We publish in several languages. If you are interested in this project, please contact Helmut Heit: helmut.heit@philosophie.uni-freiburg.de.
Mark as favourite