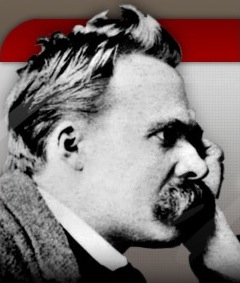 http://www.nietzschesource.org
About Nietzsche Source
Nietzsche Source is a web site devoted to the publication of scholarly content on the work and life of Friedrich Nietzsche. The content of the site and its internet addresses are stable and can be freely consulted and used for scholarly purposes.
Two editions are currently being published in Nietzsche Source: the digital version of the standard critical edition and the facsimile edition of the entire Nietzsche estate. The genetic editions of two of Nietzsche's works The Wanderer and his Shadow and Dawn, including the reproduction of all related manuscripts, are in preparation.
The website is managed by the Nietzsche Source Organization (formerly, the Association HyperNietzsche), a non-profit organisation hosted at the École normale supérieure in Paris. Its main purpose is to continue work on the edition, commentary and interpretation of Nietzsche's work.
Über Nietzsche Source
Nietzsche Source ist eine Website zur Veröffentlichung wissenschaftlicher Inhalte zu Leben und Werk Friedrich Nietzsches. Der Inhalt dieser Website und ihre Internetadressen sind stabil und frei zugänglich für Forschung und Lehre.
Gegenwärtig werden zwei Ausgaben in Nietzsche Source publiziert: die elektronische Fassung der maßgeblichen kritischen Ausgabe und die Die Faksimile Ausgabe des gesamten Nachlasses. Die genetischen Ausgaben zweier Werke Nietzsches Der Wanderer und sein Schatten sowie Morgenröthe, samt Reproduktion aller diesbezüglichen Manuskripte, befinden sich in Vorbereitung.
Die Website wird betrieben von der Nietzsche Source Organization (vormals Association HyperNietzsche), einer Non-Profit-Organisation an der École normale supérieure in Paris. Ihre Hauptaufgabe ist die Fortsetzung der Editionen, sowie die Kommentierung und Interpretation von Nietzsches Werk.
Présentation
Nietzsche Source est un site web consacré à la publication de contenus scientifiques concernant l'œuvre et la vie de Friedrich Nietzsche. Les contenus du site et leurs adresses internet sont stables et peuvent être librement utilisés et cités à des fins d'enseignement et de recherche.
La version électronique de l'édition critique de référence et l'édition en fac-similé du legs de Nietzsche sont actuellement en cours de publication sur le site. Est en préparation l'édition génétique de deux œuvres de Nietzsche, Le voyageur et son ombre et Aurore, comprenant la reproduction de tous leurs manuscrits préparatoires.
Le site est placé sous la responsabilité de la Nietzsche Source Organization (anciennement Association HyperNietzsche), une association à but non lucratif dont le siège est à l'École normale supérieure de Paris dont l'objectif principal est le travail d'édition, de commentaire et d'interprétation de l'œuvre de Nietzsche.
Presentazione
Nietzsche Source è un sito web dedicato alla pubblicazione di contenuti scientifici riguardanti la vita e l'opera di Friedrich Nietzsche. I contenuti del sito e i loro indirizzi internet sono stabili e possono essere liberamente utilizzati e citati per la ricerca e l'insegnamento.
Due edizioni sono attualmente in corso: la versione elettronica dell'edizione critica Colli/Montinari e l'edizione facsimile del lascito. L'edizione genetica di due opere di Nietzsche, Il viandante e la sua ombra e Aurora, comprensiva di tutta la tradizione manoscritta, è in preparazione.
Responsabile del sito è la Nietzsche Source Organization (già Association HyperNietzsche), un'associazione senza scopo di lucro con sede all'École normale supérieure di Parigi, il cui obiettivo principale è l'edizione, il commento e l'interpretazione dell'opera di Nietzsche.
Mark as favourite