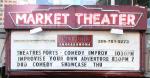 WHERE: The Pike Place Market Theater, 1428 Post Alley, Seattle, WA
WHEN: May 14th through June 12th, 2010, Fridays and Saturdays at 8:30 p.m.
NIETZSCHE! THE MUSICAL
Produced by Unexpected Productions
"I want no 'believers;' I think I am too sarcastic to believe in myself; I never speak to masses. I have a terrible fear that one day I will be
pronounced holy. You will guess why I publish this book before; it shall prevent people from doing mischief with me. I have no wish to be a saint. I would rather be a buffoon. Perhaps I am a buffoon." — Friedrich Nietzsche, Ecce Homo
Unexpected Productions presents the world premiere of "Nietzsche! The Musical." Over a century after Friedrich Nietzsche's death, his influence still pervades intellectual and popular culture, from Freud and Foucault to Kanye West and Little Miss Sunshine. But many questions still remain: Was Nietzsche's mustache made from shredded Bibles? Did he secretly invent kickball? And what about the alleged catfish-baiting rings he ran in his basement?
"The humor in this show isn't capricious," says playwright Jeremy Richards. "It's a reflection of the terrifying incongruity between Nietzsche's ideas and his legacy. What we cannot fathom is so overwhelming, it's absurd. There's still darkness here, but with Nietzsche's command to 'kill the spirit of gravity' and to accompany every truth with laughter, the only response we have is release."
Richards, who has written the book and lyrics for his Master's thesis in Cultural Studies, promises the show will reward fans of Nietzsche's work, but it remains accessible to a wide audience. Richards has teamed up with composer Rob Scherzer and director Kate Jaeger to offer a surreal and satirical take on Nietzsche's life, work, and contemporary resonance.
"Nietzsche! The Musical" opens Friday, May 14th and runs through June 12th at Seattle's Market Theatre.
Mark as favourite