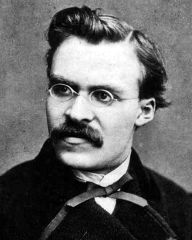 An international one-day conference exploring Nietzsche's conceptions of the relationship between nature and the human in the context of his philosophy of power. UCD School of Philosophy acknowledges the generous support of UCD College of Human Sciences and the Goethe Institute, Dublin.
Organisers: Prof. Maeve Cooke and Dr Joseph Ward, IRCHSS postdoctoral fellow, 2010-12.
Keynote speaker: Professor Vanessa Lemm, Diego Portales University, Santiago de Chile.
Other confirmed speakers:
* Professor Graham Parkes, Head of School of Sociology and Philosophy, University College Cork
* Dr Tsarina Doyle, Department of Philosophy, NUI Galway
* Dr Joseph Cohen, School of Philosophy, University College Dublin.
In addition to the keynote address by Prof. Lemm, there will be three plenary lectures, each followed by a ten minute response from a discussant. Sessions will last 90 minutes. The number of participants is limited to 25.
For other information, see Nietzsche Conference.
Mark as favourite