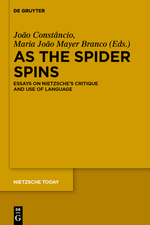 Nietzsche's metaphor of the spider that spins its cobweb expresses his critique of the metaphysical use of language – but it also suggests that "we, spiders" are able to spin different, life-affirming, healthier, non-metaphysical cobwebs. This book is a collection of 12 essays that focus not only on Nietzsche's critique of the metaphysical assumptions of language, but also on his effort to use language in a different way, i.e., to create a "new language". It is from this viewpoint that the book considers such themes as consciousness, the self, metaphor, instinct, affectivity, style, morality, truth, and knowledge. The authors invited to contribute to this volume are Nietzsche scholars who belong to some of the most important research centers of the European Nietzsche-Research.
For more information see here.
J. Constâncio, M. J. Branco (eds.), As the Spider Spins. Essays on Nietzsche's Critique and Use of Language, Berlin, New York: De Gruyter 2012 (Nietzsche Today 2), 313 pp., 79,95 €.
Mark as favourite